ML Monique LHuillier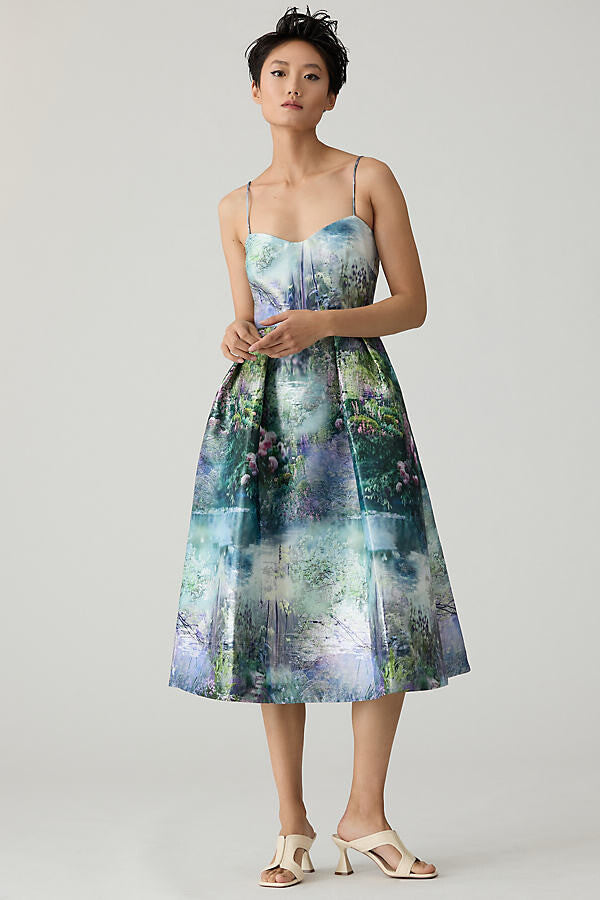 Step into this enchanted dress adorned in the captivating Koi Monet printed jacquard, this midi-length dress is a masterpiece of craftsmanship. The intricate pattern draws inspiration from the beauty of Monet's art, bringing a touch of artistic flair to your ensemble.

The delicate spaghetti straps on this dress add a hint of allure, framing your shoulders beautifully, while the box-pleated A-line skirt creates a flattering silhouette that exudes grace and sophistication. As you move, the skirt gracefully flows, adding an ethereal touch to your every step.
Designed for utmost comfort and ease of wear, the ML Monique LHuillier Midi-Length Dress features a hidden center-back zipper.
Stop in our store today to unleash your inner goddess at dugo and embrace the artistry and allure of the ML Monique LHuillier Midi-Length Dress. Make a statement that echoes elegance and style, leaving a lasting impression that is nothing short of unforgettable.